"Obama is one of those rare political figures that seems to grow smaller the closer we get to him"

- Some guy I heard on the radio the other day
I wrote some time ago that normally each candidate will receive two bounces in the polls that are almost guaranteed:
Choosing a vice presidential candidate
Having their party's convention, officially accepting the nomination.

Somehow, Obama chose a VP that got him no bounce at all. In fact, in the days since choosing his VP, he's dropped in the polls, and McCain has taken the lead on the Gallup Poll for the first time!
Here's a chart showing the history of the Gallop poll from 8/3/08 to today.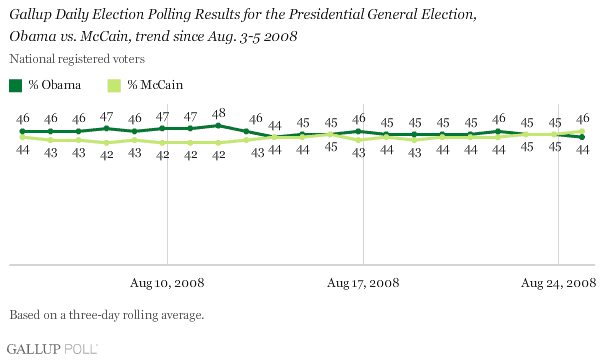 Theories:
In Joe Biden, Obama picked the Democrat who shares certain characteristics the most with John McCain, after spending his campaign criticizing these characteristics in McCain. He's not going to win any McCain supporters, and will lose some of his own voters.
The more we get to know Obama, the less likely we are to vote for him.

McCain's continual advertising is being successful. He's got a few types of ads that are making the news:
Obama isn't a leader, he only has rock-star popularity.
While Hillary got more votes, Obama and the DNC made sure she was locked out of the race.
Obama's influences are nearly all negative: Slum lords, unrepentant terrorists, hate-America preachers, etc.
What about issues? What about talking about positions on what is important? It's difficult to do with Obama insists on holding multiple opposing views at the same time.
Obama is against and for:
offshore drilling
faith-based funding
withdrawing all troops from Iraq
and the list goes on